Domain Registration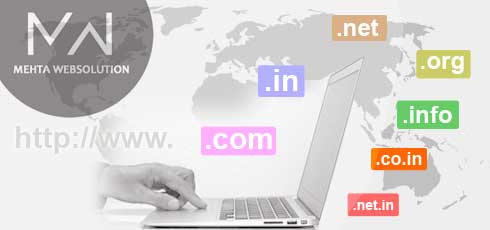 Mehta Websolution Serving Worldwide India Domain Name registration offer exceptional potentials to people who wish to secure their Brandname in one of the prime locations for growth and investment opportunities with the coming decades.
Our Indian Domain Name Services are Unbeatable, with registration prices as low as $ 9.99 and easy to use domain management system for .in , .co.in , .net.in , .org.in , .firm.in and .gen.in domains
From the first day of worldwide - real-time registrations, our company has grown steadily and now our sites serve thousands of customers from more than 100 different countries around the world.
add-ons:
Free with every registration
Total DNS control of your domain
DNS hosting for your Indian domain
Domain forwarding
Email forwarding
Easy to use control panel
Complete support provided
Prices starting as low as $ 9.99
Have you get done with your domain name registration? Not Yet? You should make sure that you register the domain name as soon as possible. Registering domain name is not only necessity, but it is mandatory. The main reason behind to register a domain name soon is for the availability of your desired keyword. The competition is growing in every sphere, thus once your domain name might end to disappear really fast and secure. We are providing cheapest domain registration India services thus satisfying all the customer needs with 24*7 support. It is a pretty good deal because we are registering a good domain name for your website that you want. Don't be late
Check Availability of Domain and Order NOW
Web Hosting
Your logo is just a starting point for your brand, but many logos fall short as they're not consistently branded across all media, which in turn can reflect badly on your company.
Mehta Websolution can make sure your brand is correctly and consistently applied because we understand the requirements to transfer your logo across your different media. And, when creating a focused brand, we aim to provide longevity.
We can develop your brand further by generating colour palettes, image libraries, print communications and guides for correct use for web and print. And we can tie all this all together by producing a set of branding guidelines for your company and clients to adhere to when using and marketing your brand.
Up to 5 GiGaBytes Web Space
100 Business Email ID
100 Sub Domain
24*7 Support
1 Database
1 Domain Host
Rs.3000(yearly)
Up to 10 GiGaBytes Web Space
200 Business Email ID
200 Sub Domain
24*7 Support
10 Database
3 Domain Host
Rs.4000(yearly)
We'd be delighted to provide you with a competitive quote, but please provide us with as much information as you can about your project and requirements.
Ready to get started? Get Quote or Contact us today and see what we can do for you!