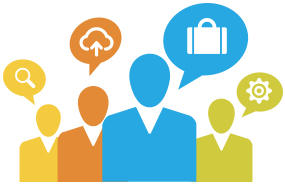 Mehta Websolution, We offer a comprehensive and professional web design service to customers of all sizes, including small businesses, corporate organisations, and individuals.Whether you need a one-page brochure site or a complex database driven web application, we would love to hear from you.
We firmly believe that your website is one of your most important marketing and sales tools. That's why we pay as much attention to the usability of your site as we do to the way it looks..
Every website we build is bespoke, and tailored to a client's individual requirements. A great website is not an off-the-shelf product, but the result of careful research, planning and specialist skills.
Thank you for considering Mehta Websolution for your website design project. Deciding which web development company to trust with your project is not an easy task, but choosing Mehta Websolution is the right choice. Many businesses and individuals have made the choice and they are talking about us, check out our web design portfolio and client testimonials to see what they're saying. We love to help small businesses establish or improve their image and web presence, but whether your company is large or small, we have the time, expertise, and creativity to be an integral part of your web marketing solution.
What you can expect with every website design project:
Great, fast loading, modern design
Private, in progress viewing during design and development
Content management system to easily edit your website
Basic search engine optimization to help you rank better
Professional stock photography as needed during design, to help establish site theme
Site map to help visitors find what they are looking for
User friendly/Search engine friendly navigation menu
Email/information request forms to allow visitor feedback and inquiries
Upload to your website host when going live
Manual submission to Google, Yahoo, and Bing
Free minor changes for two weeks following launch of new site
Ongoing support for questions and issues
Our core business is website design and web development. We've branched out to offer other services and we do them well, however; our main purpose always has been and will continue to be website design. Mehta Websolution started from an idea, grew in to a purpose, became a goal, and then a reality. In that journey, we've helped many businesses and individuals along a similar path, and met a lot of great people in the process
Being a small business, we know that timelines and budgets are important and not an optional guideline to follow, we respect your time and your budget. We don't re-invent the wheel for every website design project, and always leverage open source technology and solutions whenever appropriate to keep your costs low. If you have any questions, please feel free to contact us, we look forward to hearing from you. Let us be your website design company
We'd be delighted to provide you with a competitive quote, but please provide us with as much information as you can about your project and requirements.
Ready to get started? Website Design Quote or Contact us today and see what we can do for you!