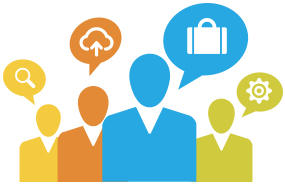 Logo Designing
Mehta Websolution has the required creativity and skills to bring your logo design concept to life. Each logo is "Tailor made" giving uniqueness to client's vision and no templates are used during the logo design process. We have a logo design process that is simple, yet extremely effective & our logo designers are talented enough to extract the essence of your business and portray it into a powerful & attention catching logo. After your design is ready, it is delivered in a vector based file format which allows you to give it any size you like without disrupting or disturbing the pixels.
When it comes to Corporate Branding, Logo Design & Identity Design, Mehta Websolution is popular name in India. We have designed logos for clients in many countries by understanding their unique geographical oriented requirements. We have a good track record of completing things within promised time.
As Logo is one of important aspect of any business, since logo reflects how business services all about. As Logo will be the company corporate identity and it's enormously significant for every business segment to appreciate the dissimilarity for their business web design by expert logo designer. We at Mehta Websolution deliver various alternative of logo design to choose best logo for their business.
Branding Design
Your logo is just a starting point for your brand, but many logos fall short as they're not consistently branded across all media, which in turn can reflect badly on your company.
Mehta Websolution can make sure your brand is correctly and consistently applied because we understand the requirements to transfer your logo across your different media. And, when creating a focused brand, we aim to provide longevity.
We can develop your brand further by generating colour palettes, image libraries, print communications and guides for correct use for web and print. And we can tie all this all together by producing a set of branding guidelines for your company and clients to adhere to when using and marketing your brand.
The Importance of a Best Branding Agency
Branding in the minds of many, means having a logo, tagline or slogan, and in some cases a color scheme. In reality, these things are merely the tip of the iceberg when it comes to building a brand. A company's brand is its personality and it is a promise; a promise to the consumer of value beyond features and benefits. A brand has the ability to create a bond between company and consumer. It gives the consumer a reason to buy from one company over another even when their products may be nearly identical. It is this power that brands hold, that make creating a brand an elusive task.
Mehta Websolution is Best Branding Agency
You can have any designer put together a logo and maybe they'll even help throw in a tagline for you; but what about when it comes to creating a brand? Branding should be left to the experts. Mehta Websolution can give your brand personality. There are large corporations out there today whose brands have been evaluated in the millions of dollars. That means they could expect to sell that many million dollars' worth in products or services yearly without spending a penny on marketing. Wouldn't you like your brand to hold that kind of power? Mehta Websolution has a team of experts that can help send your brand in the right direction.
4 drafts will be submitted within 2-7 days after we receive payment
2 Revision on any 1 draft selected from among the drafts submitted
Logo will be delivered in formats suitable for Web only - JPG, GIF, PNG.
Suitable for Small Size Businesses
5 drafts will be submitted within 2-7 days after we receive payment
2 Revisions on any 2 drafts selected from among the drafts submitted
Logo will be delivered in formats suitable for Web only. PSD File will also be delivered.
Suitable for Small/Medium Size Businesses
We'd be delighted to provide you with a competitive quote, but please provide us with as much information as you can about your project and requirements.
Ready to get started? Get Quote or Contact us today and see what we can do for you!